1927 GREYHOUND DERBY
This race was run at the White City on Saturday 15th October 1927
| | | | | | |
| --- | --- | --- | --- | --- | --- |
| Pos. | Greyhound | Sire | Dam | Prices | Time/Dist. |
| 1 | Entry Badge (5) | Jamie UK 1917 | Beaded Nora | 1/4 fav | 29.01 |
| 2 | Ever Bright (1) | Jacks Lodge | Beautiful Style | 100/6 | 6 Lengths |
| 3 | Elder Brother (4) | Skeets | Beaded Fly | 100/8 | 1/2 L |
| 4 | Toftwood Millsack (3) | Harbuckle | Haversack | 10/1 | sh head |
| 5 | Derham Boy (2) | Hill Sixty III | Crosswell Belle | 20/1 | 3 L |
| 6 | Banderlo (6) | Nefarious Nettle | Gally Lass | 100/8 | 1 L |
The Winner was owned by Mr E Baxter
Entry Badge was trained by Joe Harmon at the White City, London
Ever Bright was trained by John (Jack) Kennedy at Harringay
Elder Brother was trained by Jack Rimmer at Liverpool
Toftwood Millsack was trained by Harry Buck at Harringay
Dereham Boy was trained by Hughes at Powderhall
Banderloo was trained by J Buck at Belle Vue, Manchester
The first Greyhound Derby final was held at the White City on Saturday 15th October 1927. It was run over 500 yards and was won by Entry Badge, a brindled dog weighing 66 lbs, trained by J. Harmon and owned by Mr E. Baxter, who won the race by six lengths from Ever Bright, in a time of 29.01, winning a prize of £1000.
1927 PRE-FINAL
The first Greyhound Derby, launched by the GRA, had a first prize of £1000 and a Gold Cup. Heats were organised by regions and there was a Northern Final and a Southern Final, with the first 3 home in each being invited to the final, which was to be run at the White City over a distance of 500 yards. In the lead up to the final Great Chum suffered an injury and was scratched at 9 am on Wednesday 12th October 1927 leaving the Edinburgh greyhound Derham Boy to take his place in the final.
Southern Semi-Final
Northern Semi-Final
Saturday 8th October 1927 at White City
Saturday 8th October 1927 at Belle Vue, Manchester
ENTRY BADGE
1/4 fav
29.00
Harmon (White City)
GREAT CHUM
Belle Vue
TOFTWOOD MILLSACK
20/1
29.24
Buck (Harringay)
ELDER BROTHER
Rimmer (Liverpool)
EVER BRIGHT
10/1
29.29
Kennedy (Harringay)
BANDERLO
Buck (Belle Vue)
ROVING BEN
100/6
29.61
Sharman (Hall Green)
DERHAM BOY
Hughes (Powderhall)
KNOCKANE LASS
20/1
29.67
Cross (Hall Green)
CRUISELINE BOY
10/1
29.91
Harmob (White City)
1927 FINAL
On the strength of his Southern final win, Entry Badge was made favourite for the first Greyhound Derby final at 4 to 1 on. Running from a less favoured trap 5, Entry Badge burst to the front from the traps and led throughout. Although constantly challenged by Ever Bright, he won by 6 lengths in a time of 29.01 secs.
WINNERS PROFILE
Entry Badge was a brindled dog who was owned by a butcher, Edwin Baxter and trained by Joe Harmon. Although he lost his very first race at the White City, he then built up an unbeaten sequence of wins. What was even more remarkable was that the first 3 dogs home in the Derby were owned by Edwin Baxter.
| | | | |
| --- | --- | --- | --- |
| | | | Earls Court |
| | | Beaded Brow | |
| | | | Asphyx |
| | Jamie | | |
| | | | Long Span |
| | | Jibstay | |
| | | | Chignon |
| ENTRY BADGE | | | |
| | | | Hoprend |
| | | Hopsack | |
| | | | Heart of Freedom |
| | Beaded Nora | | |
| | | | Beaded Brow |
| | | Beaded Lil | |
| | | | Badoura |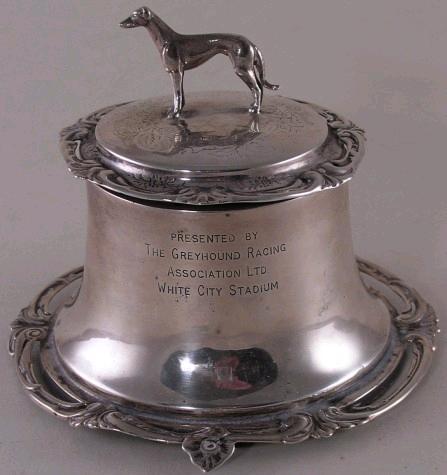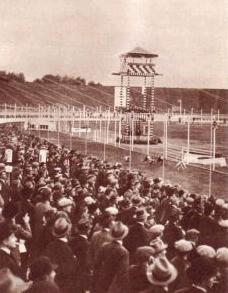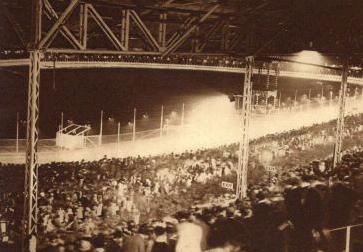 Email me at johnwslusar@gmail.com