I am very grateful to Valerie Oxley for the following extract from the journal of Amelia Staniforth (Stanyforth) of Firbeck Hall, Yorkshire. The journal covers the years 1782 to 1785, and this extract from 1782 mentions visiting Grantham Races. It provides an insight into how wealthy racing enthusiasts would have travelled to the races and where they would have been accommodated. Firbeck is closely connected with the St Leger family and the first St Leger horse race is reputed to have been run in Firbeck. However, whilst it is clear that the race was named after the St Leger family, the first race took place in 1776 and is believed to have not been run at Town Moor, Doncaster, but at Cantley Common. Details of the first race are shown below. The sisters also went to Doncaster for the race season but mainly for the 'Company' and to visit the theatre. Detailed lists of owners of Firbeck Hall and Park Hill are shown below; the Park Hill list includes members of the St Leger family.
Mr Anthony St Leger's 25 Guineas Sweepstake for 3 year olds over 2 miles
Run on Cantley Common on Tuesday 24th September 1776
Racecourse began at a farm house at Smallbriggs, now Rose Hill, and continued to Cantley Common
1. Unnamed Brown Filly by Sampson owned by Lord Rockingham
2. Unnamed Brown Filly by Trusty owned by Mr A. St Leger
3. Orestes, by Doge, a Bay Colt owned by Mr Wentworth
4. Unnamed Chestnut Colt by Remus owned by Lord Rockingham
5. Unnamed Bay Filly by Blank owned by Mr Foljambe
At a later date the winner was named Allabacula.
May 7 Tuesday 1782 (Diary extract)
Morning soon after nine Henrietta and Amelia and JH set out to Grantham, George Lambert (coachman) with them to Worksop from there sent a pair of horses home and took a pair of post horses, set out at eleven, got to Allerton (Ollerton) 14 minutes before one, (upon the road there stop't at the end of a lane to see soldiers come down it) just went in there while the horses eat hay – got to Newark ¼ after three, dined there and changed horses, set out from there before six and got to Grantham soon after eight, Mrs Slater (early) had dined with Mrs Forster, went before seven.
The George at Grantham had only been built two years when this journal was written. Amelia may well have enjoyed Ordinaries at the George prior to racing, and might even have attended a Ball once the races were completed.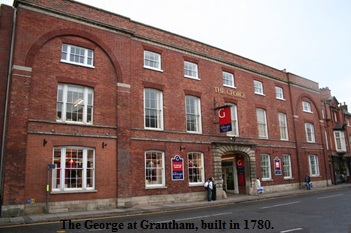 Saturday June 8th 1782
After 12 Amelia walk'd with Miss Lely to Mrs Custs, coming back call'd at Mr David Lelys and saw the assembly room, Henrietta just walk'd to Mrs Worlsey's, and saw Mrs Greenwood there – afternoon Miss Lely and Mrs Worsley came. Mrs Worsley stay'd tea, at seven Amelia call'd of Miss Lely to walk, went almost to Belton Park and back –
June 15 Saturday morning Miss Stora call'd and sat a little with Henrietta and Amelia – afternoon Amelia call'd at Mrs Worsley's and Mr Lely's and sat a little with both, about seven Miss Lely came here and Amelia walk'd with her to Belton Park gate.
June 16 Sunday morning A went to church, coming back call'd at Mrs Worlsey's. Mr and Mrs Manners there, after that Mrs Worsley call'd here, afternoon Amelia at church, Mrs Forster down. Mr Lely here and Miss Lely came to tea – after that Mrs Forster and H went out in the Chaise, Ponton road, about seven Miss Lely and A walk'd to Belton Park gate – met Mr John Cason who walk back with them.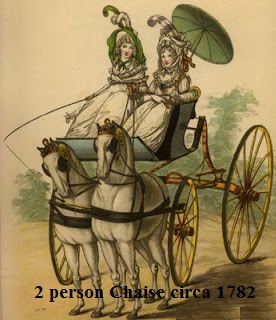 June 17 Monday morning Amelia went with a message to Mrs Worsley and sat some time with her, before six Henrietta went to drink tea with her, after tea here Mrs Forster and Amelia went in the Chaise to the horse Course round the booths and home at eight, soon after H came home, Mrs Worsley just called with her.
June 18 Tuesday morning A call'd at Mrs Worsley's and Miss Lely's, afternoon ** go by to the Races, after tea a gentleman and Lady came and stay'd an hour in their way from London, after eight Amelia called at Mrs Worsley's. A detailed racecard showing the days races is given below.
June 19 Wednesday morning. Amelia went to Mrs Raby's and Miss Lely about the Consort, at six Mrs Forster and Henrietta went in the Chaise by Ponton to the Race ground, and saw the horses run the heat – and home after eight, before that A went to Mr Raby's in his Chaise with Mrs Leason, found them two, Mr Moody and Miss Leason at tea, about nine Mrs Raby, Mrs Leason and Amelia went to the concert at The George. It began ½ nine, were 13 hands and Forte piano, a Violin cello, Harp… - fine Harpsichord from London, two german flutes, two Bassoons, two French horns and four Violins – a very good Consort, finish'd 10 minutes after eleven Amelia walk'd home, Mrs Leason part of the way and Mr Moody to the door with her.
June 20 Thursday morning Mr Raby, Mr Moody, Mrs Greenwood and Mr Busby call'd – afternoon Miss Leason – ½ past four Henrietta and Amelia went in the Chaise the nearest way to the race ground, a very little Race came away at eight by way of Ponton.
June 21 Friday morning Henrietta went in the Chaise with Mrs Forster, Gunneby road, afternoon they drank tea with Mrs Greenwood and Mr Busby, before they went Miss Lely came here and after her Mr Lely and sat some time. Amelia walk'd with them to Mrs Forsters garden where Close**had been patch'd the Ladies sat sometime, from thence to Mr Lelys drank tea in their garden, at seven Miss Lely and Amelia walk'd part of Belton road and up some Closes, – Mrs and Miss L* and Mrs Worsley sup'd here.
June 22 Saturday morning Mrs and Miss Los* call'd here and stay'd a little before they set out of their journey, after that Henrietta went out in the Chaise with Mrs Forster a little after tea, ½ past five Amelia went with Mrs Forster by Ponton to the race ground, round by Belton, met Mrs Cust etc and Mr and Miss Manton, H went to Mrs Worsleys, home at 9.
June 24 Monday morning Amelia went to Mrs Worsleys and Mr Lelys – after five Mrs Forster and Henrietta went to Belton and round by Sir John Thorrolds – A drank tea with Mr and Miss Lely etc and after that walk'd with Miss Lely up the hill to Ladies walk – call'd at Mr Lelys and Mrs Worsleys –
June 27 Thursday morning Mrs Loddington and Mr Moody here - Henrietta and Amelia call'd at Mrs Keys and then to Mr Lelys to speak to him, Henrietta found here Mrs Stora* and Miss Stephens here, Amelia call'd at Mrs Worsleys- afternoon Mrs Key call'd, after her Mrs and Master Raby, Henrietta drank tea at Mr Lelys with Mrs Loddington, call'd at Mrs Keys and saw her house, and at Mrs Worsleys. Mrs Forsters and Amelia rode by the Grange to Barraby saw Bevor Castle, came back the old way, met Mrs Monteaths walking and Mrs Cust on horseback – went to Gunnaby hill and home.
June 29 Saturday morning Henrietta and Amelia after calling at Mrs Garners door walk'd to Mr Halls sat with him and Master White some time and walk'd in the garden with them – from thence to Mrs Worsleys, Amelia to Mr Lelys just saw him, but Miss Lely not at home, back to Mrs Worsleys to Henrietta – from there to Mrs Storas sat a little and went into the garden with her, from thence home, H from Mrs Worsleys to Miss Leason and home – afternoon Miss Lely call'd and sat a little, before six Mrs Forster and Henrietta rode out the road to see Bever Castle, Mrs Slater and A walk'd in the ** from about six to seven A and Mrs Worsleys who came here with her when the Ladies got home about eight and she supp'd here.
June 30 Sunday Henrietta and Amelia went twice to church call'd at Mrs Worsley – before dinner Mrs Loddington, and after her Mrs Cust and Mrs Dennison – call'd – about six Mrs Forster and Henrietta went in the Chaise to look at Bever Castle - A went to see Miss Leason and stay'd till seven, from thence to Mrs Worsleys walk'd with her and Miss Worsley round the Wangs etc and all came here soon after eight. Sat with Mrs Slater till the Ladies came home and sometime with them.
Residents of Firbeck Hall, Firbeck
1594 William West Senior
1598 William West Junior
1638 John West
1659 Elizabeth Fane
1669 Sir Francis Fane
1676 William and Mary Woolhouse
1676 Jonathan Stanyforth
1691 Disney Stanyforth
1756 Jonathan Stanyforth
1779 Amelia & Henrietta Stanyforth
1790 Amelia Stanyforth
1792 John Barker
1800 Henry Gally Knight Snr
1808 Henry Gally Knight Jnr
1846 Ecclesiastical Commissioners
1853 Mrs Frances Harriett Miles
1878 Rev. Henry Gladwyn Jebb
1898 Captain Sydney Gladwyn Jebb
Residents of Park Hill, Firbeck
1600 Saunderson Family
1685 sold to Nonus Parker by Thomas Chadwick
1734 Judith (Parker) and William Singleton
1754 Major General Thomas Fowke
1754 Trustees of Thomas Thornhill
1765 Col. Anthony St Leger
1786 John Hayes St Leger
1791 Michael Angelo & Frances Anne Taylor (Rented)
1800 Anthony Butler St Leger
1804 Holland & Harriet Watson (Rented)
1812 Samuel & Margaret Barrett (Rented)
1823 Frederick and Henrietta Sutton Manners (Rented)
1861 Anthony Francis Butler St Leger
1864 John St Leger
1905 Arthur John Bonfoy St Leger
1909 Offered for Sale
Residents of Firbeck Hall, Firbeck
1919 – 1928 Rented to Mr Albert Orlando Peech
1934 Purchased by Cyril Aubrey Nicholson
1945 Miners Welfare Commission – Purchase
Conversion to South Yorkshire Miners Rehabilitation Centre
1951 Transfer to NHS Sheffield Regional Hospital Board
1974 Rotherham Area Health Authority
1991 Rehabilitation Centre Closed
1996 Cambs Construction Ltd – Purchased by Glen Saint
2010 6th July Purchased by Mr Jason Cooper
Residents of Park Hill, Firbeck
1913 School for Girls
1928 Offered for Sale: Occupied by Mr Hanson
1934 Purchased by Cyril Aubrey Nicholson
1935 House demolished
1953 Farm & Buildings purchased by Mr J C Batty
1965 Farm & Buildings Inherited by Mrs J Colver