Earliest meeting: Saturday 2nd April 1864
Final meeting: Saturday 27th March 1939
Racing has been staged in Melton since 1728, although the Melton Hunt Club was operational prior to this date. However, they diversified into racing in the 19th century with meetings held at the Leicestershire village of Burton Lazars, some 2 miles south east of Melton Mowbray. Meetings were organised by the Melton Hunt Committee, taking place between Burton Flats and the Leesthorpe Hill, although it is thought that the course was only a temporary one laid out especially with flags for the annual races which were generally held on a Monday in March. The National Hunt Chase Challenge Cup, now contested at the annual Cheltenham Festival in March, was held at Burton Lazars on 3 occasions, starting on Saturday 2nd April 1864 when Game Chicken came second to Cooksboro' but appealed to the stewards that the winning jockey was neither a farmer nor a gentleman and should not be classed as the winner. The appeal was upheld, notching Captain Arthur Smith another winner. In 1871 Daybreak, also ridden by Captain Arthur Smith, was successful, while Friar John won in 1901 in the hands of Herbert Sidney. The meeting on Monday 7th April 1897 was a personal triumph for local jockey Mr W Gale who was successful on all of his 5 rides, beginning with Gamester, followed in order by Pirate, Arran, Erin's Beauty and Glamis. The races, which continued until 1939, were so well respected that Edward, Prince of Wales, and the Duke of Gloucester attended regularly, staying in the village for the duration of the races. Indeed, the Prince of Wales rode Kinlark in the Open Steeplechase Plate in 1923, finishing a very creditable fourth behind Culprit, and went on to ride Little Christy in the Ladies Plate, although it refused behind Don Jose. At that meeting the Prince of Wales brought Prince George with him and they both stayed at the Craven Lodge Club overnight. The final meeting took place on Saturday 27th March 1939, although after the War successful point to point meetings were held, continuing today at Garthorpe.
Wednesday 28th March 1923
Melton Open Steeplechase over 3 miles 1 furlong
1. Culprit, 12st 3lbs owned by Colonel G Paynter
2. Climber, 11st 3lbs owned by Mr Gordon
3. Oliver III, 11st 3lbs owned by Mr G Payne
4. Kinlark, 11st 3lbs owned by HRH the Prince of Wales
I am grateful to John Fergusson for the picture of his great-grandfather winning the Ladies Purse in April 1907. If anyone can provide more details of the race, or indicate other occasions when Arthur Hughes-Onlsow was successful, then email me.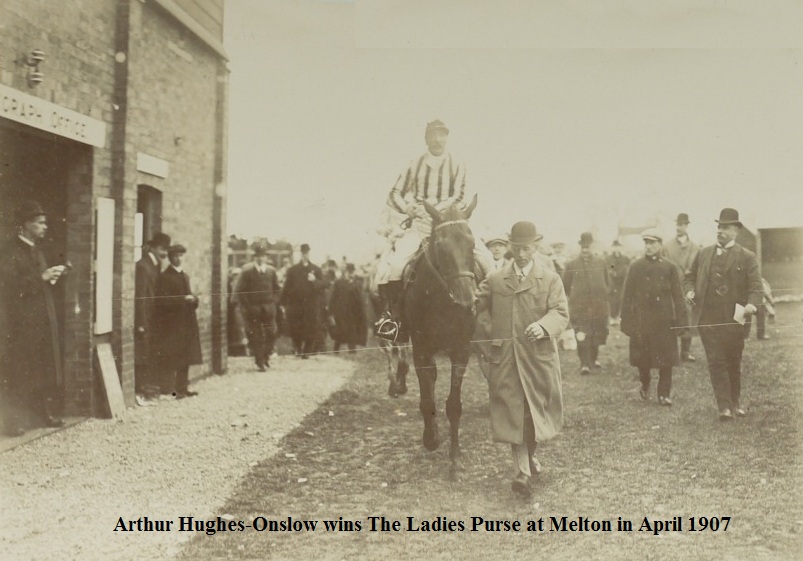 If you have photos, postcards, racecards. badges, newspaper cuttings or book references about the old course, or can provide a photo of how the ground on which the old racecourse stood looks today, then email johnwslusar@gmail.com
Much of the information about this course has been found using internet research and is in the public domain. However, useful research sources have been:-
London Illustrated News
Racing Illustrated 1895-1899
The Sporting & Dramatic Illustrated
Northern Turf History Volumes 1-4 by J.Fairfax-Blakeborough
The Sporting Magazine
A Long Time Gone by Chris Pitt first published in 1996 ISBN 0 900599 89 8
Racing Calendars which were first published in 1727