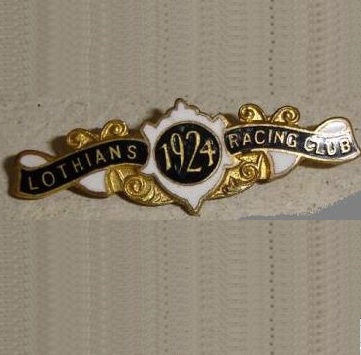 Early records show that some form of racing was staged in Edinburgh as early as 1504, most notably on Leith sands. Almost three centuries later the Royal Caledonian Hunt Club, who had organised meetings at Hamilton and Kelso, sponsored a meeting at Edinburgh. Just two years afterwards an extended five day meeting in July attracted a crowd in excess of 100,000. The final meeting on Leith sands was held in 1815, and a year later the first six day meeting took place on the current racecourse on Monday 7th October 1816. The card opened with His Majesty's 100 Guineas Plate, which was won by the Marquis of Queensberry's Epperstone. A second His Majesty's Plate was held on Thursday when King David prevailed for Lord Queensberry. Racing ceased during each of the two World Wars, with Alec McHarg taking charge after the War in 1946, but in 1963 the threat of closure loomed when the Levy Board considered axing it as part of its programme of reforms. Fortunately the Earl of Rosebery fronted a campaign group and the course was saved. The course introduced jump racing on Thursday 5th January 1967, but by 1974, after the Earl of Rosebery had died, the course was denied Levy Board backing again and it was left to the Lothians Racing Syndicate to provide the necessary financial support to refurbish the grandstand and save the course. Currently the course hosts 27 fixtures annually.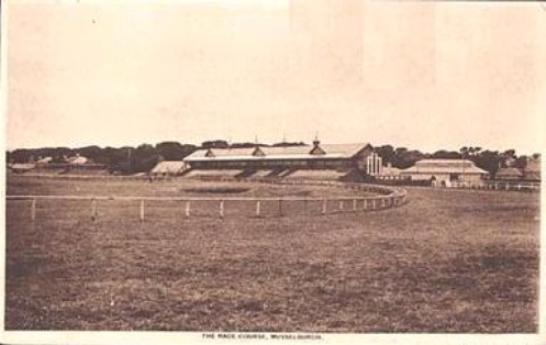 The Leeds Intelligencer reported on the two day meeting from Monday 21st to Tuesday 22nd July 1777.
Monday 21st July 1777
Edinburgh 50 Sovereigns Purse
1. Bambouzle owned by Sir Thomas Wallace Dunlop 1 1
2. Who-would-have-thought-it owned by Mr Miller 4 2
3. Woodcock owned by Mr Blackie 2 dist.
4. Squirrel owned by Mr Hudson 3 dist
5. Little Skirmish owned by Mr Turner dist.
6. Miss Slipley owned by Mr Hunter Fell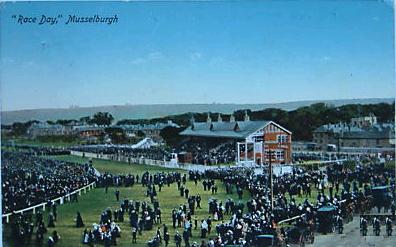 Tuesday 22nd July 1777
His Majesty's 100 Guineas Purse
1. Hercules owned by the Duke of Hamilton
2. Hazard owned by Mr Shaftoe
3. Airderburrow owned by Mr Kerr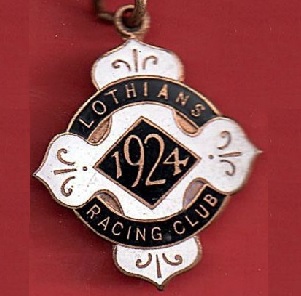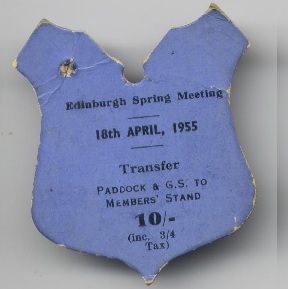 The Scottish Borders town of Selkirk first held racing as early as 1715 when a silver plate, valued at £10, was contested and became an annual event. However, it is thought that racing took place well before that date, probably as early as 1656. A silver Town Plate was contested on the last Tuesday of April each year, with the Burgh Plate run on the following day. By 1824 a new course at the Gala Rig had been established, when its inaugural two day meeting took place on Friday 25th and Saturday 26th June 1824. Racing continued on a regular basis for a further 57 years, the principal race at this time was the Tradesman's Stakes over 1 ½ miles which was won in 1870 by Yarrow, owned by G. Dryden. The final meeting took place on Friday 17th June 1881.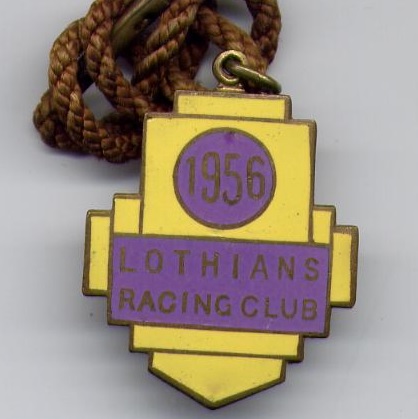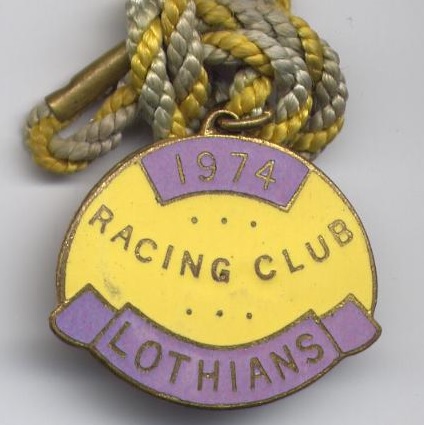 The rare racecard shown below is from the May 1845 meeting held in Edinburgh.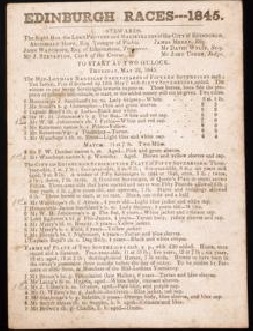 Thursday 22nd May 1845
Mid-Lothian Handicap Sweepstake over 2 miles
1. Pythia, chestnut filly owned by Mr W H Johnstone
2. Pilot, bay colt owned by Mr Robertson
3. Lara, chestnut gelding owned by Captain Boyd
Edinburgh 2 mile Match
1. Waverley, bay gelding owned by Mr Wauchope
2. Unnamed bay mare owned by Sir F W Dunbar
City of Edinburgh Subscription Plate over 1 ½ miles
1. Amata, chestnut filly owned by Mr Wauchope
2. Dog Billy, chestnut colt owned by Captain Boyd
3. Brevity, black mare owned by Mr Merry