South Shields Greyhound Stadium opened on 11th March 1933 and was popular with both its North Stand and South Stand punters. The traditional distances were sprints over 395 yards, Standard distance 410 yards, 540 yards and middle distance 570 yards. The Stadium had a very popular following on the South side and entry to this section was via a Horsley Hill badge.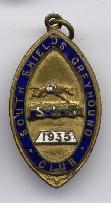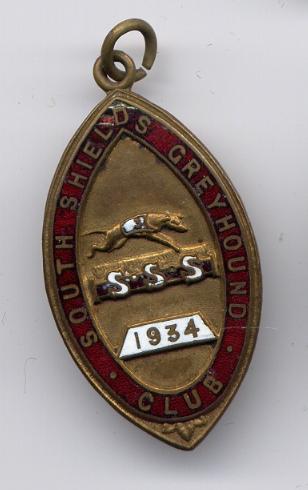 Track Records, as of 1947, are shown below together with an indication of how fast the time is in comparison to other tracks, both for currently open and defunct tracks, in the UK. Ratings are between 0 and 100, where 100 is an extremely fast time and reflects the speed of the track, tightness of the circuit and quality of greyhound visiting the tracks. I am grateful to Tony Nash for providing the data.
SPRINTS (up to 385m) STANDARD (386-549m) DISTANCE (550-699m) EXTENDED (700-999m)
South Shields Track Records at a snapshot in time:-
SPRINT 395 yards Diamond Glory 23.34 secs Rating 2 Achieved in 1936
STANDARD 400 yards Terrys Monarch 23.41 secs Rating 2 Achieved in 1946
STANDARD 540 yards Joyful Holidays 32.51 secs Rating 1
STANDARD 565 yards Clementine 34.54 secs Rating 1
I am grateful to Tony Swan for providing his earliest memories of South Shields Greyhound Stadium and giving correct information about the distances.
My earliest memories of South Shields dog track was in 1952. My stepfather told me that one of the stands had been burned down, and he suspected it was as a consequence of, 'corrupt results' although nothing was proven at the time. Indeed one of the managers much later, around 1962, went public with his concerns about the results and reported those concerns in the South Shields Gazette which, at the time, gave the official cards and published all the results of each meeting. This paper confirms my belief about the race distances which I think were a standard distance of 410 yards and a long distance of 575 yards.  I myself left the North East in 1962; at the time meetings where being held on Thursdays and Saturdays, with an additional Tuesday meeting during the summer. The entrance fee was 2 shillings  for 8 five dog races. South Shields greyhound stadium ran lower grade, greyhounds than Brough Park, but at that time better than Sunderland [then still a flapping track], although probably on a par with both Gosforth and Gateshead. The track record, as I recall, for 410 yds was held by a greyhound named Pearl Diver, although few of the locals could ever recall it running at the track. Usually around half the races were handicaps. I fondly remember a youth during my visits called Dennis Robson who had the most remarkable eyesight; standing almost 100 yards away and behind the finishing line at South Shields greyhound stadium, he could easily decide the winner in the closest of photo finishes and was never once wrong . The fastest dog to run at  South Shields during my time was named Welburn Nigger, not perhaps politically correct in today's world, whom I recall clocking 23.61 secs over 410 yds around 1953
I am grateful to Tony Swan for his recollections about South Shields greyhounds. He recalls that, 'Minnie's Man of War' ran there in the early 60's and was owned by the famous Newcastle footballer Jackie Milburn. Furthermore, 'Eveleen' also ran there at the same time and was owned by the Newcastle Manager of the day, although not Stan Cullis. He asks whether anyone remembers 'Toasted Rice' being transferred from Brough Park and setting the track alight when clocking 23.85 over the 410 yard race? In one of those lifetime memory moments, Tony was at South Shields in 1962 when the Cuban crisis was at its height. It came over the tannoy that the Russian leader Kruschev had pulled back from the brink.
If you have rare South Shields badges and artefacts for sale then email johnslusar@fsmail.net