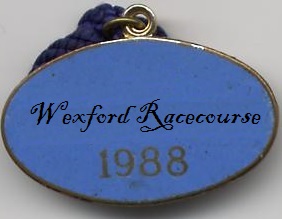 The first races recorded in the vicinity of Wexford were on land owned by James Downes in Adamstown, eleven miles from Wexford, on Wednesday 27th April 1870. The meeting, graced by the presence of the Earl of Granard, opened with a 50 Sovereigns Purse which saw Mr Robert Williams's Clondaw Lass beat Bryan O'Lynn and Hiltown. Later in the afternoon the Wexford Hunt Cup, over 3 miles, went to Mr W H West's Brunette, defeating Counsellor and Paddy. By the 1880s the meeting had moved closer to Wexford on low lying bogland at Slobland, on the outskirts of Wexford. At the meeting on Thursday 29th September 1887 the principal races were the Wexford Town Plate, the Begerin Plate which was restricted to hunters owned by working farmers in the county of Wexford, and the Michaelmas Plate. Meetings at this venue only lasted until 1902 and were not particularly well supported, lacking real quality. Over eighty years later the inaugural meeting took place at the current location, Bettyville, on Monday 15th October 1951. It was a day which had been eagerly anticipated by locals and they turned up in their droves, with a crowd in excess of 17000 attending the inaugural meeting. At that first meeting the admission charge was 10s for gentlemen and 5s for ladies in the main enclosure, while 2s 6d was charged for the outside enclosure. On 31st May 1996 the new grandstand was opened by Ivan Yates, Minister of Agriculture. The undulating right handed course extends to a mile and 4 furlongs and, up to June 2016, offered both Flat and National Hunt racing. On 1st June 2016 the course decided to drop Flat racing from its programme and concentrate on National Hunt racing.

Currently the course hosts 9 fixtures annually.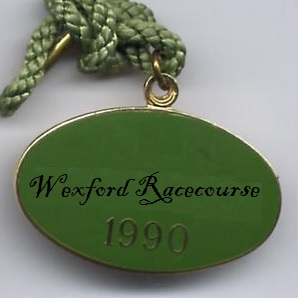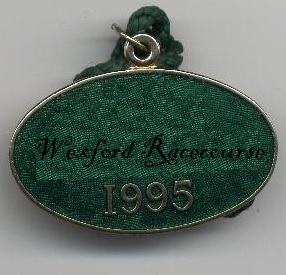 The County Wexford town of Enniscorthy first organised race meetings as early as 1841. It is likely that there were minor races before this, although they were not widely reported. A two day meeting was staged on Wednesday 29th and Thursday 30th September 1841 on a one mile course at Oak-Hall. After racing on the first day a Race Ball was held in the Town Hall. Meetings continued for 4 more years after which racing lapsed. There was talk of a revival in 1854 and a meeting certainly took place on Saturday 24th May 1862 on the Ballycoursey course, just a mile from the town centre in the basin of the River Slaney, although the card also included pony and hack races. Towards the end of the 19th century racing was revived and on Wednesday 14th June 1899 the Railway Handicap went to Mr O'Kehoe's The Chief, while the feature Town Plate was claimed by Mr W P Cullen's Lillian Noel. Crowds declined in the early 20th century to such an extent that the final meeting took place on Thursday 1st June 1911.